Well, I'm in it now. We've officially survived the first trimester and heading right into the thick of it.
We'll be a whopping 16 weeks on Monday and although I can't say that I've enjoyed every minute of pregnancy thus far, I've definitely enjoyed knowing that the light at the end of the tunnel will far outweigh every single moment of blowing chunks (which for me have yet to cease, no magical 2nd trimester fairy has come and dusted me with a beautiful "glow" and bouts of energy). So, in honor of this first obstacle being completely done, even if those symptoms haven't gone away with it, I've decided to spill my not-so-secret survival items that I take with me when I get to have a day away from the toilet and out in the land of normalcy.
Here are my 10 go-to items I've had with me since I woke up week 6 and said, "Uh o, so this is it eh?!"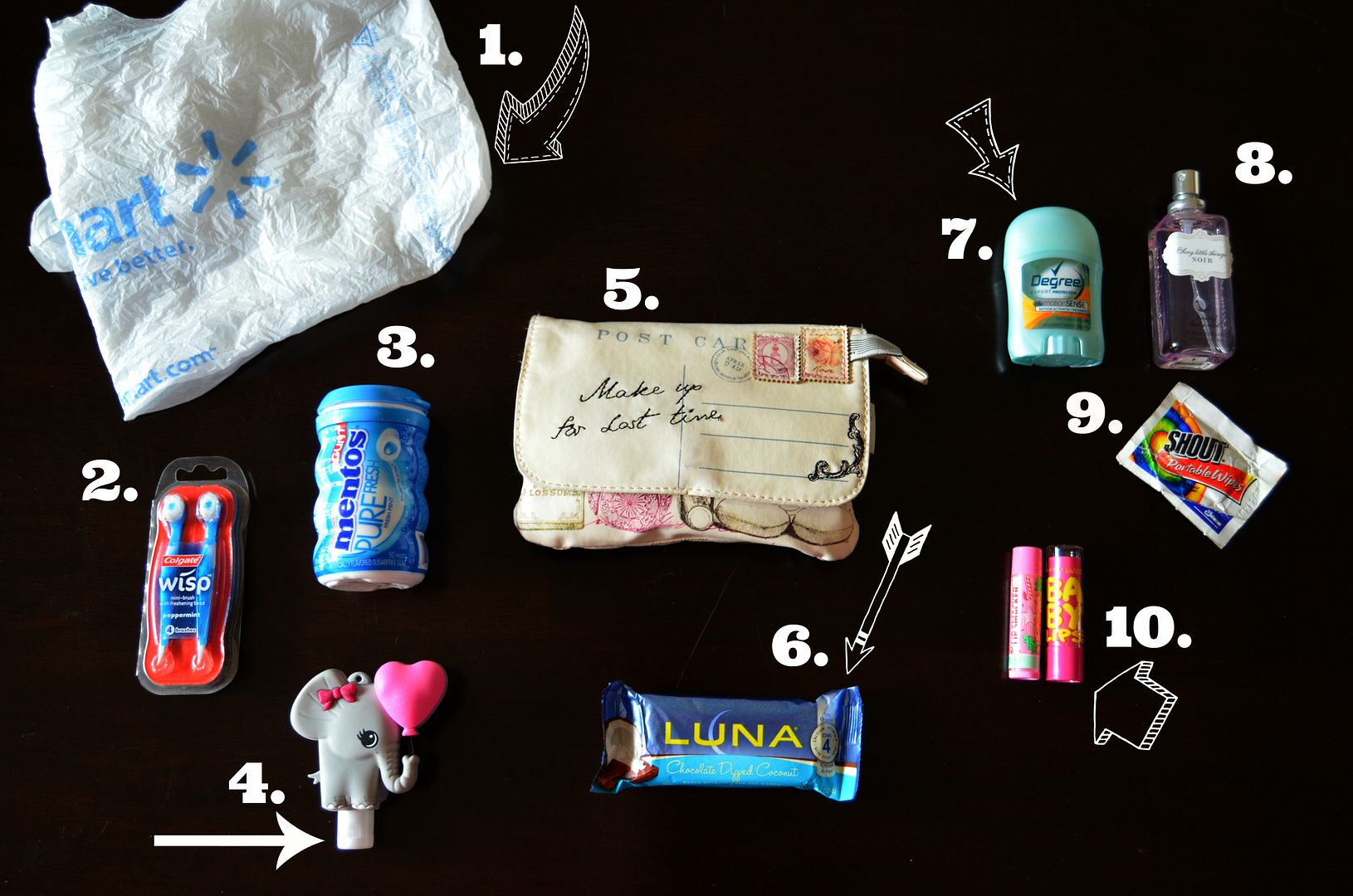 1. Barf bags: This is a no-brainer. I've only thrown up in one public toilet and then last night I had an epic event in a Zaxby's parking lot, literally in front of the window for all diners to enjoy. Other than that, I've landed pretty much everything in the "bag."
2. Colgate Wisps: When you vomit, you must refresh. Even though, this may make you gag and throw up some more.
3. Mentos Gum: Sometimes these little chewies take the edge off of the nausea, or at least leave a better taste in my mouth than stomach acid after a long drive to Target.
4. Hand Sanitizer: Of course, my go-to is Bath & Body Works brand, but when a little bit of barf decides to backsplash onto your hands ... this makes you feel, at least a little bit, better.
5. Makeup Bag (via Modcloth): When the "episode" is a rougher one, I cry ... an ugly cry. Which means, a touch up of the eyeliner, blush ... lipstick ... the entire face is involved.
6. Snacks: I like the chocolate-covered coconut Luna bars because I know they have the right nutrition and they don't make me want to vomit on command.
7. Deodorant: Because it's summertime and even if the AC in the car is blasting on my face ... we sweat when we throw up, just admit it.
8. Body Spray: A spritz will too make you feel better, at least a little bit. And then no one can say you smell like vomit.
10. Chapstick: My two go-to's are Smackers and Baby Lips, because ever since I started this throw up marathon my lips have become increasingly more dry and both of these work.